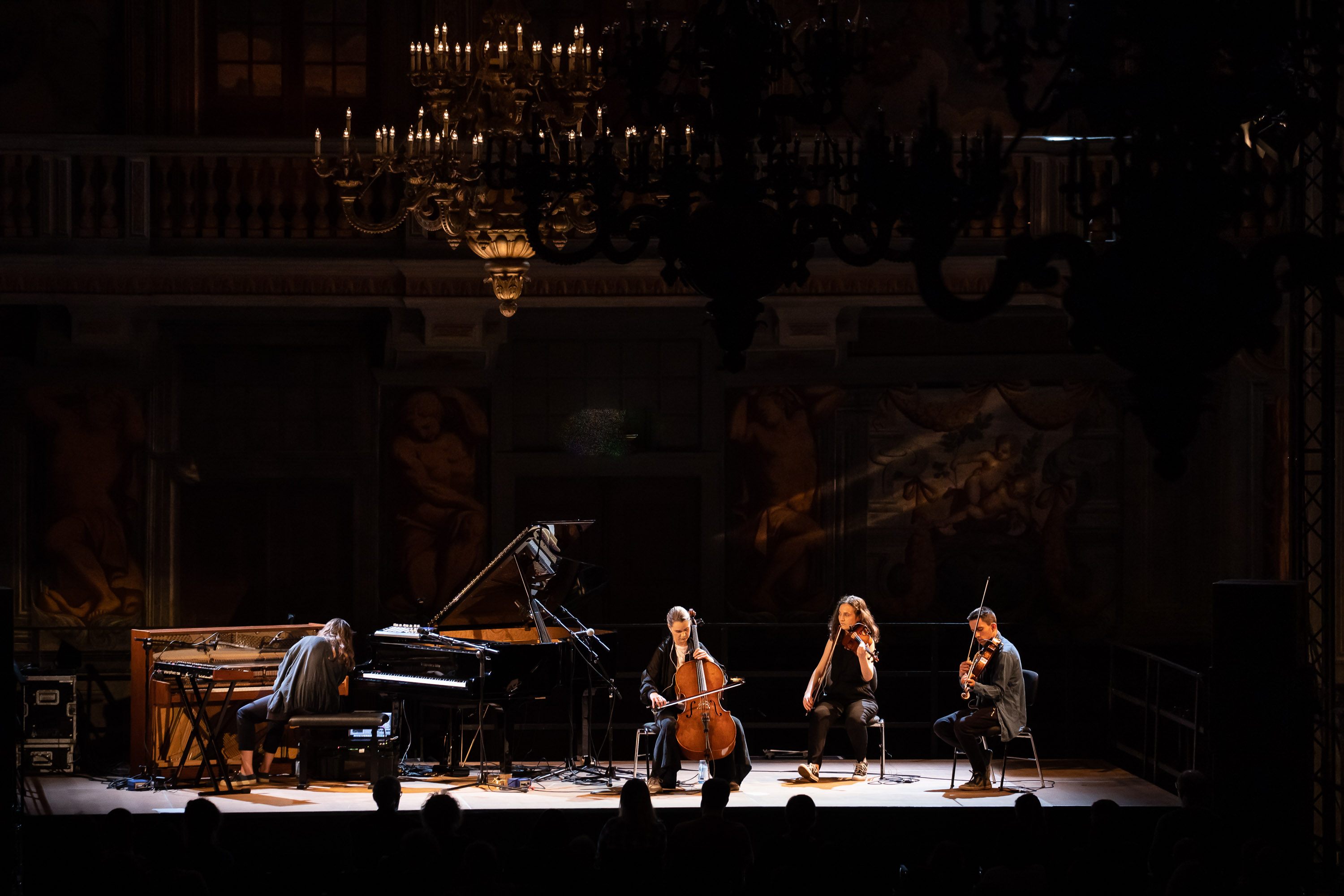 Hania Rani at KunstFestSpiele 2021
Feinkost Lampe
This year's concerts hosted by the small underground club Feinkost Lampe combine powerful voices from Ukraine, Iran, Brazil and Syria with the atmosphere of the Galerie and Großer Garten.
From Lviv comes YAGODY, an ensemble around the actor Zoryana Dybovska. Their thrilling choral sounds combine Ukrainian folksongs with influence from the Balkans and elsewhere.
The Denmark-based Iranian Nadia Tehran performs on a wave of punk energy. Their songs explore migration, identity, disconnection, flight – now booming and trippy, now thoughtfully poetic, often rapping with biting irony.
On KunstFestSpiele Tag the musician Yousef Kekhia, who was born and raised in Syria, introduces his second album, Polylog. His warm electronic songs look at themes like feminism and gender identity, and his captivating voice seeks a new expression of masculinity.
Bia Ferreira defines her songs that mix gospel, rap and reggae as 'música de mulher preta' ('Black woman's music'). The Brazilian singer, multi-instrumentalist and composer raises her voice as an anti-racist activist and fierce defender of the LGBTQIA+ community. Her song 'Cota Nao é Esmola', a hymn of anti-racist resistance to the quota system for Black access to universities, reached an audience of millions.
The artists in this varied Feinkost Lampe programme connect personal and musical background with political attitude to extend the spectrum of contemporary sounds.
Tickets 8 Euros per concert* (plus charges)
* Tickets Yousef Kekhia 5 Euros
Dates Feinkost Lampe
Thu 11.05 / after the show
Opening party


DJ LUV

(DJ set)
Foyer Schauspielhaus / Cumberlandsche Galerie

Fri 12.05 / 9 p.m.
YAGODY
Galerie



Wed 17.05 / 9 p.m.
Nadia Tehran
Galerie




Sun 21.05 / 3.15 and 7 p.m.
Yousef Kekhia
Großer Garten / rehearsal stage

Sat 27.05 / 9 p.m.
Bia Ferreira
Galerie



Sun 28.05 / after the show
Closing party


M.Age.Project

(DJ set)
Festival centre